Beans
Kentucky Wonder Bush

2-3″ apart; 1-2″ deep
Sowed with HOSS plate No. 6 modified to a larger hole and that plate is 5.5″ apart. Plant in a 12-inch apart double row to offset the wider spacing.
At 800 seeds/100′ row for four 60′ rows (240′ total) we will need about 2,000 seeds. At 100 seeds per ounce, we need to buy 20 oz. or 1.5 lbs. Based on info here and here.
Seed Planting Depth: 1.5″
Germination Temperature: 75
Days to Germination: 7-10
Row Spacing: 36″
Plant Spacing: 6″

Harvest time: 57 days
Per MSU Ext. – peas and beans generally require no more than 20 pounds of nitrogen per acre to obtain good yields.

Green Crop Bush Bean bought from HOSS on May 14, 2021.

Plants will grow 18 in. to 20 in. tall and produce "stringless" pods with white seeds.
Optimal germination temperature is around 77 F. Seeds can require 8 to 16 days to germinate.
For continual production, succession plant every couple of weeks throughout the spring and early summer. Plants will drop blooms or cease production in the heat of summer. Subsequent succession plantings may be made in late summer/fall.
Use a #6 plate on the Hoss Garden Seeder and modifying the hole size (if necessary) to fit the seed size. Beans should be planted relatively thick along the row and thinned to the desired spacing. For double-row spacing, rows may be planted as close as 6 in. apart with 3 in. spacing between double rows.
Planting Depth: 1 inch
Seed Spacing: 3-4 inch
Days to Maturity: 50
Disease Resistance: Common Bean Mosaic Virus
Carrots – In Mary's Garden Only
From YouTube Video: Plant in the space a board will cover. Then water the soil well. Drop seed onto wet soil then press down into the soil but not too much so you can still see them. Flip board over seeds/soil and press into the soil. Chk for sprouts in 5-6 days but likely 10-11 days. Water around the board if the dirt dries out.
HOSS plants the Scarlet Nante. Bought 2/8/2021, by Ferry Morris via Home Depot. HOSS's tips from this video are:
On 2/8/2021 put into the refrigerator for 2 weeks; i.e "stratification".
Plant seed 1/4″ deep, 3 seeds per inch, and thin to 1-2″ apart in rows 12″ apart. Per SESE.
Keep it wet from underground with drip tape.
Plant them thick as many will not germinate. They will be all different sizes due to being planted thick.
Avg soil germination temp is 75.
Plant spring carrots in February.
RKNs are a problem so plant the right cover crops.
Cantaloupe
Thin plants to 18" apart in rows 5-6' apart.
If your muskmelons taste flat, the trouble could be a lack of magnesium in sandy soil. Sweeten the fruit by spraying the vines with this solution: Dissolve 6 ½ tablespoons of Epsom salts and 3-1/3 tablespoons of borax in 5 gallons of water. Spray the foliage when the vines begin to "run" and again when the fruit is about two inches in diameter.
Fertilize when vines start growing.
Once fruit begins to grow, prune end buds off vines. Your plants may produce fewer melons, but they will be larger and of better quality.
Above from Farmer's Almanac.
Cilantro/Coriander
Crack the seed coat and pre-soak 24 hours.
After germination, thin seedlings to 6 to 8 inches apart. GardeningKnowHow.com says thin to 4″ so the thick leaf canopy shades the soil and they bolt slower.
From TAMU

Cilantro is a cool-season crop that does best at temperatures between 50 and 85 degrees F. If temperatures exceed 85 degrees F it will start to bolt.
In Texas, the best time to plant cilantro is in February for an April harvest and again in September for a November harvest. Weekly plantings will ensure that you have a continuous crop.
Set the seeds about ¼ to ½ inches deep and 2 inches apart in rows 12 to 15 inches apart if you are planning to harvest cilantro leaves.

Coriander Leisure, from Harris Seeds. – An extra slow bolting strain of cilantro that is raised during hot weather in the Southern and Northeastern regions of the US. The plant and leaf types are similar to Santo cilantro.

Seeding depth: 0.25 – 0.5 inches
Germination days: 7 – 10 days
Corn
G-90 in nine 60′ long rows. Total row length will be 540 feet.
1 to 2 ounces of seed for every 100 feet of row. Therefore, 6 oz to 12 oz. So, buy a pound.
Sow 1″ deep, 8-12″ spacing. [Should have sowed at 3 holes in HOSS Seeder that would have been 19/3=6.3 inches apart]
Leftover seed to be planted in July for fall corn.
Use modified HOSS plate 4 with only two holes to sow the seeds 8.5″ apart counting on good germination and no thinning. [This did not work well and the corn was too thin.]
Spread fertilizer below the hill and include 2/3 tbsp per row of zinc sulfate. For the 9 rows of G90 corn mix 18 pints/9qts/2.25 gallons of 8-8-8 with 6 tbsp (9×2/3) of zinc sulfate. Spread 1 quart per row. [This level seemed ok until the heavy spring rains this year, 2021 washed away the nitrogen and potash.
Cucumbers
General Advice – From SESE.

Seeds require a temperature of at least 68 degrees F to germinate. – In 2021 we had good germination with night time lows in the mid 50° range.
Final spacing should be 6-12 in. apart in rows 3-5 ft. apart.

Poinsett 76 Cucumber – Resistant to anthracnose, angular leaf spot, downy mildew, powdery mildew, and spider mites.

24″ apart, 1-2″ Deep
From SESE – Avoid too much nitrogen or fruits may be bitter. Water plants regularly to get the mildest fruits. Seeds require a temperature of at least 68 degrees F to germinate.

Wisconson SMR-58 Cucumber – For planting them in a hill, place three seedlings or 7-8 seeds in each hill; space hills 4-5′ apart. If rows are preferrable, plant seedlings 1′ apart or place 5 seeds within 1′ and later thin them. Cucumbers love heat and cannot endure even a light frost; if cold temperatures threaten, cover the seedlings.
Dill
Dill Fernleaf – The dwarf, 18″ plants produce abundant blue-green foliage and are slow to bolt.
Soil temperature: 70 – 75 degrees Fahrenheit
Seeding depth: 0.25 – 0.5 inches
Germination lighting: Dark required
Germination days: 7 – 21 days
Grow on temperature day: 60 – 65 degrees fahrenheit
Flowers
Beach Sunflowers – Germination: 14 days, 70 degrees F. Full sun. Space 12-18" apart.
Sunflowers F1 bought at G&D for $0.50.
Periwinkle – Vinca – Plant Cora periwinkle from seed as it is disease resistant to the common fungal disease. Good advice here (see extracts below) and here.

As they appear here in the stores in May they would have been sown in March.
If you can, set the container on a heating cable or mat to maintain a temperature of 77 degrees F (25 degrees C) in the media. Seeds will germinate in one to two weeks.
Grow the plants at 70 degrees F or higher.

Marigolds

Moisten the soil, then sow seeds 1 inch apart and no more than 1 inch deep.
The seed germinates in one week at 70 to 75°F.
While still small, thin the seedlings. Space French and signet types 8 to 10 inches apart.

Zinnias

Sow seed collected last year
It takes air and soil of more than 70 F to germinate well.
They do not transplant well.
Plant them about 1/4" deep in the ground.
Greens – Decided we had enough Greens in the fall/winter garden so did not plant any.
Maybe try – Senposai, which translates as Thousand Wonder Vegetable, is a cross between komatsuna and regular cabbage. From here.
Savanna produced good tasting greens in our fall 2020 garden.
1-6″ apart; ½-1″ deep
Lettuce – Mary's Garden
8-12″ apart; ½" deep
Parris Island
Salad Bowl, Buttercrunch, Tehama, & Parris Island Romaine Planting Information from HOSS Tools.

1,000 seeds per packet
When to Sow: early spring and fall

Planting Depth: 1/4 in.
Seed Spacing: 8-12 in.
Row Spacing: 18-24 in.
Days to Maturity: 50

Lettuce Truchas MTO Organic – A lighter colored red romaine that can be grown to fit the class of both little gem and mini romaine. Upright and open plant habit produces uniform sized leaves that self-blanch closer to the core. Flavor is mild and crunchy. A great variety to pair with Dragoon. High resistance to Downy Mildew (races 1-9 and 16-35), Tomato Bushy Stunt Virus, and Lettuce Mosaic Virus. From Harris Seeds.

Soil temperature: 65 – 70 degrees Fahrenheit
Seeding depth: 0.25 – 0.5 inches
Germination lighting: Light required
Germination days: 6 – 10 days
Maturation days: 48 days

Lettuce Dragoon MTO Organic – Green Little Gem. Uniform compact heads have a green, voluminous semi savoyed leaf structure. Plant habit keeps a short core and is strong against bolting. Resistance to Downy Mildew (races 1-8, 16-27), Lettuce Leaf Aphid, Corky Root Rot and Lettuce Mosaic Virus. From Harris Seeds.

Soil temperature: 60 – 70 degrees Fahrenheit
Seeding depth: 0.25 – 0.5 inches
Germination lighting: Light required
Germination days: 6 – 10 days
Maturation days: 44 days
Okra
Sow seed ¾-1 in. deep and thin to 18 in. apart in rows 5-6 ft. apart. Per SESE. HOSS says 12-18 in spacing and 1/2″ deep.
After the first harvest, remove the lower leaves to help speed up production per the Old Farmers Almanac.
Clemson Spineless bought last year
Okra, Gold Coast at SESE – Sweet, mild, spineless light-green pods up to 6 in. long. 5-6 ft. plants are well-branched with an open growth habit. Thanks to its well-developed root system, has good drought and heat tolerance, as well as tolerance of root-knot nematodes.
Red Burgundy Okra is a highly productive, heirloom variety that produces deep, red pods that remain tender at longer pod lengths. All-America Selections winner in 1988. Plants can grow as tall as 6 ft.

Planting Depth: 1/2 in
Seed Spacing: 12-18″
Days to Maturity: 50
Disease Resistance: None 

Jambalaya Okra  A hybrid variety. Compact plants can start producing okra pods at 1-2 ft. tall and will continue producing as plants grow to 5-6 ft. tall. 

Planting Depth: 1/2 in.
Seed Spacing: 12-18 in.
Days to Maturity: 50
Disease Resistance: None
Onions
Warrior Bunching onions from HOSS. An All-America Selections winner in 2016.

1-2″ apart; ¼" deep.
gain a week or more on the onion season by soaking the seeds in lukewarm water for a few hours before planting them.

White and Yellow Onion Sets – Advice below from SFGate.

2-3″ spacing and rows 3 to 5 inches apart for green onions.
Plant the sets no more than 1 inch deep. It's fine if your onions are partially exposed; you're more likely to harm them by planting too deep than too shallow.
A border of onions around cabbages, broccoli, or other brassicas can help protect against cabbage worms.

Natsuguro Bunching Onion from HOSS on 5/24/2021

Natsuguro Bunching Onion is a spring onion/scallion variety with extreme heat-tolerance into the warmer months. It can be planted throughout the spring months and harvested into the summer. Great for soups and salads. Allium cepa. 65 days to maturity. Treated.
For transplanting, plant several seeds per cell. Once the green stems reach 6-8? in length and/or they can be easily pulled from the seed trays, the transplants are ready to go in the ground. Transplant each cell 2-4? apart along the row with a row spacing of 1 foot.
Peas
Good pea variety article at LSU Ag Center
For 2022 – Mix a 5-20-20 fertilizer into the soil in the planting beds, applying it at a rate of 1 1/2 pounds per 100 square feet. You can work the fertilizer into the soil in the fall when you build the beds or in the spring just before planting. From SFGate.
PEPH Top Pick, bush variety, did well last year and were easy to pick. Sow 1″ deep. Thin to 4″ apart.
General Info from Clemson Ext Service – Southern peas are a warm-season crop requiring warm soil temperature (at least 60 °F) for the best germination and emergence. Many pests and diseases will plague Southern peas planted into cool soils. Four to six seeds per foot of row should be planted three-quarters to 1½ inches deep in rows 20 to 42 inches apart. The older vining-type cultivars of Southern peas should be planted with only one to two seeds per foot of row.
Mississippi Silver from Sow True Seeds and some bought from Hurley F&F. Also known as 'Mississippi Silverskin', 'Mississippi Silver Crowder', 'Mississippi Silverhull'. The plants are bush-type setting six to seven inch long pods that are silvery-green in color and fill with large, meaty, brown seeds. Resistant to Fusarium wilt and root-knot nematodes as well as being tolerant to other viruses. From here – Pods are large, light green to cream in color at green shell maturity and flattened or crowded on the ends.

2″-4″ apart when mature; 1″-2″ deep
Sow with HOSS plate no. 5 (2.8″ apart).
Days to Harvest – 85

Ideal Soil Temp – 50-80°F

Seed Viability 4-6 years
Actual Spring 2021: First harvest 7/2/2021

'Mississippi Purple' is a brown crowder-type cowpea. The plants are semi-vining in growth habit setting pods early and concentrated, slightly above the plant, making the task of picking easier. The lavender-colored flowers yield pods are light green in color, maturing to reddish-purple and turn brown when dry. The peas are large and green at the "shelly stage." Bred by Mississippi Agricultural and Forestry Experiment Station and released in 1973. Resistant to multiple diseases including root-knot nematodes, bacterial blight, and Fusarium wilt. Each ounce is approximately 165 seeds. Text from Victory Seeds. Bought from Hurley F&F.

Days to Harvest – 65
Planting Depth: 1 in.
Seed Spacing: 3-4 in.
Row Spacing: 3-4 ft
Actual Spring 2021: First harvest 7/2/2021

Oregon Giant Dwarf Snow Pea, ¼ lb. 3 ft. vines resist common wilt, mosaic virus, powdery mildew.

Sow seed 1" deep in double rows 4″ apart. Thin to 2" apart.

Also good for a fall crop. Freezes well.
Bought 228 gms = 8 oz. 1 oz is approximately 100 seeds and sows about 10′ per Victory Seeds.

Sugar Ann Dwarf Snap Pea, ½ lb. 56 days. 1984, AAS Winner. Extra- early. Crisp, flavorful 3 in. snap peas.

Sow seed 1" deep in double rows 4" apart. Thin to 2" apart.
Compact 2 ft. vines don't require trellising.
Also good for a fall crop. Freezes well.
Per Victory Seeds
Bought from SESE 228 gms = 8 oz. 1 oz is approximately 110 seeds and sows about 10′.
60 days — 'Sugar Ann' sugar snap pea vines are short, reaching twenty-four to thirty inches tall, and although they do not require it, they will definitely benefit from some support. Like snow peas, the whole pods of sugar snap peas are eaten. They are best harvested small at about two inches in length when they are crisp, sweet, and flavorful. After de-stringing, they are great fresh, used in a stir fry, or frozen for later use.
'Sugar Ann' was an "All-American Selection®" winner in 1984. Each ounce is approximately 110 seeds, which is generally enough to plant at least a ten-foot row.
Peppers
From Johnny's here. – Like tomatoes and eggplants, peppers are a warm-season crop. The ideal temperature range for fruit set is 65°F(18°C)–85°F(29.4°C). Peppers will not thrive when temperatures are below 60°F/16°C and very little fruit set occurs above 90°F/32°C, especially with bell peppers (some hot peppers are more heat-tolerant).
---
From HarvestToTable.com.
Transplant peppers into the garden 2 to 3 weeks after the last frost in spring when the soil temperature has risen to at least 65°F (18°C).
Young peppers transplanted should be 4 to 6 inches (10-15cm) tall. Space pepper plants 18 to 24 inches apart.
Sweet and hot peppers grow best in air temperatures 65° to 80°F (18-26°C).
The ideal temperature for sweet peppers is a daytime temperature around 75°F (24°C) and a nighttime temperature around 62°F (172°C).
Side-dress plants with compost tea or diluted fish emulsion every ten days to two weeks through the growing season.
---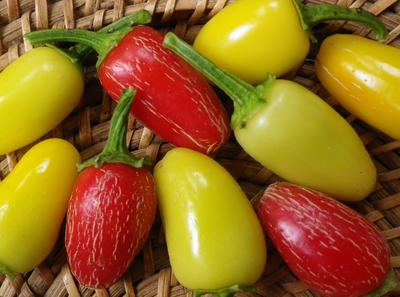 "Carolina Wonder Sweet Bell Pepper" from SESE (N); The best nematode-resistant bell for home gardeners. 75 days.
Charleston Wonder sweet bell (N)
Greek pepperoncini from HOSS. [Not the Italian variety.]
Giant Marconi Sweet Peppers F1 – Bought 3 plants from Bonnie
Jaloro Jalapeno – Resistant to many diseases and milder. SESE pg 43. [1992, Texas A&M.] Below from PepperJoe.com.

A Texas-bred hybrid version of the Jalapeno, the Jaloro Jalapeño pepper is an amazing yellow pepper that is easy to maintain and grow. This sweetheart of a Jalapeno is juicy and meaty with thick walls and will ripen from green, yellow, orange, and then red. The Jaloro pepper has a crunchy texture and a mildly hot fruity flavor. This is perfect to surprise your guests with a new set of colors of Jalapeno Poppers.
The Jaloro Jalapeno pepper plant will grow to around 2-4 feet tall, producing peppers around 3 inches long. The plants are disease resistant and will resist 6 types of pepper viruses.
Fun Fact: The Jaloro chili was the first yellow Jalapeño created by the Texas Ag. Extension Service.

Pepper Chile G76 F1 – Bought from Garden Trends who merged back into Harris Seeds. This high-yielding hybrid Anaheim type produces medium-thick fleshed fruit that has a delicious mild heat and a richly satisfying chili flavor. The attractive fruit is 8″ long and ripens from a bright green to red at full maturity but, Anaheim's are mostly eaten and used when green. This Southwest favorite is used for making chile Rellenos, grilling, and roasting. Text from Harris Seeds.

Soil temperature: 75 – 80 degrees Fahrenheit
Seeding depth: 0.25 – 0.5 inches
Germination days: 10 – 20 days
Grow on temperature day: 60 – 65 degrees
Weeks indoor: 6 – 8 weeks
Maturation days: 72 days
Intermediate resistance to TMV.

Tiburon Poblano Pepper – From HOSS – A highly productive, hybrid variety that produces large, glossy peppers. Mild heat that's great for stuffed peppers and sauces. Capsicum annuum.

Transplant Spacing: 2 ft.

Row Spacing: 3-4 ft
Days to Maturity: 60
Disease Resistance: Tobacco Mosaic Virus, Bacterial Leaf Spot, Cucumber Mosaic Virus
Fruits can get as large as 7 in. long.
Scoville Rating – 1,000 to 3,000 from here.

Sunbright Golden Bell Pepper packet bought at Hurley F&F – heirloom, open-pollinated variety of golden bell pepper that produces high yields of large, blocky fruit.
Cayenne, Long Red Hot from SESE – A choice, fiery, red-hot seasoning pepper. Use fresh or dried, especially in salsa or chili. ½ x 3-5 in. fruits. 42 in. plants.
Squash
Yellow and zucchini – Germination temperature: 60 F to 105 F – Will not germinate in cold soil. Wait to plant until soil reaches at least 65 F — preferably 70 F or more. Germinates best at 95 F. From Cornell. NOTE – This year the Golden Bush Scalloped and Delta Squash (yellow semi-crook neck) DID germinate with the soil in the high 50s a few nights.
Spinach
3-5″ apart; 3/4″ deep
Soak initially in warm water overnight. Then pre-sprout in a pint jar in the refrigerator turning daily to maintain even moisture to get even germination rates.
Thin spinach to 12 inches apart when seedlings are 3 inches.
When small feed them Miracle Grow. Use a granular fertilizer as a side dressing along the edge of the row, and apply it once every month or so. After applying water it in well immediately.
Side dress 1 pound of calcium nitrate (15.5-0-0) per 100 square feet (30 feet of row) three to four weeks after planting. On sandier soil, this may need to be split into two applications. To avoid burning the roots, side-dress fertilizer 4 to 6 inches away from the plants. From Clemson.edu
Tomatoes
Our Plans for 2021 for all three varieties:

Transplants were grown in the new Greenhouse.
Transplant spacing to be 24″
Side-dress with pecan wood ashes from the fireplace to add calcium to prevent Blossom End Rot.

Better Boy Tomato F1

Disease resistance: V (Verticillium Wilt), F (Fusarium Wilt), N (Nematodes); some seed companies offer Better Boy Tomato seeds also resistant to A (Alternaria) and St (Stemphylium – Gray Leaf Spot).
Indeterminate
Foliage/habit: dense; prevents sunscald
Slicer
Yield: extremely high

Super Sweet 100 – High resistance to fusarium wilt and verticillium wilt. VFN. Indeterminate.
Celebrity – High resistance to Alternaria stem canker, Fusarium wilt race 1, nematodes, tomato mosaic virus, and Verticillium wilt. AAS winner. Vigorous determinate.

From TomatoDirt:

Although classified as a determinate, Celebrity often continues to produce tomatoes until frost. Thus it is occasionally labeled as a semi-determinate.
Although it is bushy, plants can get to be 10 feet tall or more. Size depends on climate and soil.

But don't prune Celebrities

. Provide adequate staking, whether by cages, Florida weave staking, or posts, even in containers, to support the weight of the fruit. Plants can produce 30-40 tomatoes each.
While Celebrity is touted to be about 70 days to maturity, in reality many gardeners say the maturity date is closer to 90-100 days
---
Root Knot Nematodes
Nematode Resistent varieties per LSU Ag Center
There are only a few crops that have varieties resistant against the southern root-knot nematode. Tomato varieties include Better Boy, Big Beef, Celebrity, Champion, Crista, Mountain Fresh Plus, Roma, and Terrific or any other variety listed with a "VFN". The "N" stands for root-knot resistance.
Southern peas are the other major vegetable with resistance. Several Southern pea varieties to use against the root-knot nematode include Mississippi Silver and Mississippi Purple. Even if you are not interested in growing peas for sale or personal consumption, allowing this crop to grow for 6-8 weeks can drastically reduce the numbers of nematodes present.
---
Advice for the 2021 Fall Garden
Plant sweet corn in late August per HOSS here.
Peppers
Pimento
Jalapenos
Compadre
Mid-late season. Plants are vigorous and produce uniform and consistently smooth fruit. The high quality fruit is large. R to PVY, TM, and Xcv 2, 5. Fruit can be continuously picked with high yields, even under low temperatures. Fruit has no purpling and low cracking and has good tolerance to extreme temperatures.
El Jefe (dk green) Jalapenos: Bacterial Leaf Spot (Race 0-3, 7, 8), Potato Virus Y (Race 0-2), Tobacco Etch Virus
Mellow Star(F1) Shishito Pepper Seed – Potato Virus Y