Vegetable Seeds for Spring 2020
Vegetable
Variety
Source
Bush Beans
Kentucky Wonder – 1/2 lb.
G&D 1/7/20
Bok Choy
Li Ren Choi (F1) Baby Green
Johnny's
Cantaloupe
Hale's Best 45
From 2019
Carrot
Danvers 126
SESE
Corn
G90 –
Silver Queen – 2 oz/100′ row
Hurley
Hurley
Cucumber
Poinsett 76, (ALS, AN, DM, PM, SPM)
From SESE for 2019
Dill
Long Island Mammoth & Bonnie Plants
From 2019
Lettuce
Salad Bowl in row 5
Buttercrunch
Tehama Lettuce – Packet (250 seeds)
.
.
Hoss
Okra
Cajun Jewel
Saved
Bunching Onions
Italian Red of Florence
White Lisbon
2019
2019
Peas
PEPH "Top Pick" 1 lb.
Oregon Giant Dwarf Snow Pea
Zipper
G&D
SESE
Hurley
Pepper
California Wonder Bell
Charleston Belle Sweet Bell Pepper (N)*
Ancho Poblano Hot Pepper
Jaloro Jalapeno
Hungarian Hot Wax
Italian Pepperoncini
Cayenne – Carolina
* The first nematode-resistant bell pepper
G&D 1/7
SESE
SESE
SESE
2019
2019
2019
.
Radishes
White Icicle, Daikon. Cherry Bell
Champion Radish – Packet (250 seeds)
From 2019
Hoss
Spinach
Lizard – HR: DM races 1-15, 17.
Johnny's
Yellow Squash
Gold Star (F1) – IR: CMV, PM
Golden Bush Scallop Summer Squash(DM)
Johnny's
SESE
Tomatoes
Celebrity – VFFNTA
Granadero (F1) HR: F2, PM, TMV, V. IR: N, TSWV
St. Elmo
Johnny's
Tomatillos
Cisneros Grande From 2019
Everona Large Green Tomatillo
.
SESE
Zucchini
Dunja – IR: powdery mildew, papaya ringspot virus, watermelon mosaic virus, and zucchini yellow mosaic virus
Johnny's
Flower Seeds for Spring 2020
Herb Seeds for Spring 2020
---
Periwinkle – Vinca
Plant Cora periwinkle from seed. Disease resistant to the common fungal disease. Good advice here and here.
Marigold, Nema-Gone
https://www.burpee.com/flowers/marigolds/marigold-nema-gone-prod000268.html
Beans
Beets
Beet seeds and Swiss chard seeds will benefit from soaking in water
Carrots
Danvers 126 that is an improved strain of the Half Long.
Pre-sprouting advice is here. Freeze 24 hours then warm-wet until sprouts.
Good suggestions in Growing Guide here.

Plant seed 1/4" deep, 3 seeds per inch, and thin to 1-2" apart in rows 12" apart.
Cover seeds with a fine light soil, and keep soil moist.
Corn
From 2019 Soil Test Report: "For corn in home gardens on sandy soils apply 1 tablespoon zinc sulfate per 100 ft. of row.
Blue Clarage (Ohio Blue Clarage) Dent Corn at SESE.
Cucumber
Poinsett 876 planted last year did well and is recommended here for its disease resistance.
Dill
Dill gives good results when planted in February and March. The variety 'Long Island Mammoth' is suggested for Florida.
Okra
Plant Okra one-row wide so you do not have to walk between them.
Plant seed saved from last year's Cajun Jewell Okra.
Lettuce
Begin lettuce production early and keep it going later in the season by planting tall vegetables in north-south rows and plant heat-resistant lettuce underneath the leaf canopy so that it is shaded during the hottest portion of the day. Corn planted in rows 4 feet apart or pole beans on a fence or trellis is ideal. Interplanting lettuce with bush squash also gives good results.
Direct sow lettuce in the garden 4 weeks before the average last frost date when the soil temperature is at least 35°. Plant first week of Feb.
Mustard – Had enough mustard from winter garden so did not plant more.
Plant 1st week of Feb
Mustard prefers a soil pH of 5.5 to 6.8. But, Florida Broadleaf did very well in the fall 2019 garden with a ph of 7.0.
Peppers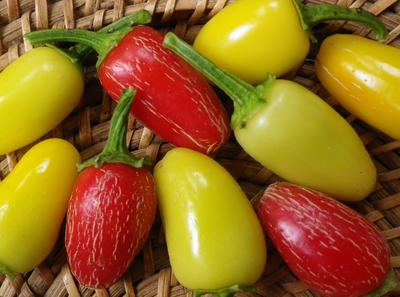 Sweet Bell – Carolina Wonder – Best Root-knot Nematode resistance. SESE pg 41
Jaloro Jalapeno – Resistant to many diseases and milder. SESE pg 43. [1992, Texas A&M.] Big yields of colorful yellow Jalapeño peppers, one of the best in our 2018 jalapeño trials. 1½ x 2 in. fruits are juicy with thick walls. Medium hot fruits, milder than our regular Jalapeño. Shorter plants than our regular Jalapeño – a good container variety! – with bigger early harvests. Resistant to many diseases including TMV.
See SESE Cultural Tips here.
See Fertilize with Epsom Salts as it is recommended for soil high in calcium and low in Magnesium. But, our soil test in Dec 2019 shows high calcium and high magnesium.
Southern Cow Peas
Pink-eye Purple Hull
Mississippi Creme Pea
Good advice at SESE here including:

Sow seed 1 in. deep, 2 in. apart in rows 3-6 ft. apart, thinning to 4 in. apart.
They need warmer soil, so wait until 3-4 weeks after last frost to plant.
Do not apply nitrogen, which will result in poor yield and lush foliage.
Radishes
Plant the seeds ½ inch deep and try to keep them about an inch apart in the row.
Once the seeds have been placed to fill up a row,

cover them lightly with the loose garden soil

, plant the next row in the same manner.

When all done, sprinkle the row or rows lightly with water enough to settle things in,

but not soaked to the point of becoming muddy.
Remember to sprinkle lightly with water, as watering too hard can wash the seeds right up out of the soil they were just planted in.
Read more at Gardening Know How: How To Grow A Radish
Spinach
Per https://harvesttotable.com/how_to_grow_spinach/

Refrigerate seeds 1 week before sowing to help germination.
Plant spinach seed ½ inch deep.

Cover seed lightly with soil.

Sow seed 2 to 4 inches apart.
Sow 4 weeks before last frost date; i.e. 1st week of Feb

The varieties of spinach recommended for north Florida include Bloomsdale, Virginia Savory, Melody, Tyee, Olympia and Longstanding from here.
Summer Squash
Plant fungus-resistant varieties. For info:
2019 yellow squash was https://www.southernexposure.com/products/early-prolific-straightneck-summer-squash/
Go here about varieties and treatments for So. Carolina.
Look into cushaw squash resistant to squash vine borers and tromboncino – https://wellnessmama.com/61326/cushaw-squash/
Keep soil moisture high by mulching per SESE.
Preventing squash vine borer damage usually requires treating the base of the plants with a residual insecticide spray at the time the moths are flying (early to mid June). Sprays provide a much better barrier against borer attacks than do dusts. Home gardeners can apply Sevin, permethrin, bifenthrin, esfenvalerate, spinosad or other labeled home garden insecticide. From here. The following is a bit different and from the same site but a different page. Treating the base of the plants with either malathion or rotenone works to control borers before they enter the stems not after the fact.
Combine the diff advice in the previous bullet and use malathion until blooming, then Spinosad.
Tomatoes
Celebrity
Tomatillos
Roma VF
Mulch to reduce diseases per SESE. BUT, too much mulch on the soil in the spring may delay growth by preventing soil temperature from rising enough to support active root growth. In June, apply a deep mulch around plants to conserve moisture, prevent disease, and increase yield. [Expect citing June is for SESE's area in Virginia.]
See Fertilize with Epsom Salts as it is recommended for soil high in calcium and low in Magnesium. But, our soil test in Dec 2019 shows high calcium and high magnesium.
Germination when temps are 60-75°F, 14-30 days.
Transplant when 8 in. tall. Space 12 in. apart.
Reaches 10 in. to 12 in. high
Shrubby, evergreen perennial.
See Burpee for good advice
Timeline from ArborGate/Houston here.