Variety recommendations and planting windows below are largely from the Florida Extension Service for North Florida and others as noted. Those shown in BOLD are planned for the big garden.
Fertilizer/Lime for the Big Garden per Soil Report
Lime recommended- 1 ton/acre or 50 lbs/1,000 SF. As the garden is a little over 13,000 SF, including the turn rows, we need to spread 13 sacks.
Fertilizer recommended – 120 lbs-0 lbs-60 lbs per acre.
---
Beets
Plant Sep NLT Oct 1
Bought Ruby Queen Beet at St. Elmo Seed.
Thin to 6 plants per foot for fresh beets, 3 plants per foot for beets used for winter storage, in rows 12 in. apart.
Optimum Soil Temp for Germination – 90
Beet greens: 2 weeks after leaves appear
SESE recommends – Beets should be grown in a light loam of pH 6.5 to 7.0. If soil pH is below 6, sprinkle limestone or wood ashes in the row as you plant;

otherwise, the yield will be seriously impaired

. An even supply of moisture and the absence of extended periods of hot weather is necessary for the development of fine-quality roots.
Plant Aug-Feb – Waltham 29, De Cicco.
Depth ¼" – ½" at 18 to 24 inches apart on rows that are 36 to 40 inches wide.
Optimum soil temp for germination is 60-85.
Side Dress – 3 weeks after transplanting and again when heads begin to form.
Watch for cabbage loopers and imported cabbage worms, which are especially troublesome on broccoli.
Waltham 29 – "Known for producing large heads and long stalks, this longtime favorite is excellent for cooking fresh or freezing. The 4-6″ dark blue-green heads are arrayed with side shoots. Developed to withstand cold, it performs outstandingly in the fall." From here. Introduced in 1954.
Fertilize at planting time and then regularly throughout the growing season.
From IFAS

Space plants 14 to 18 inches apart, in rows 14 inches from each other.
Optimum soil temp for germination is 60-85.
Look for varieties like Napa, Michihili, bok choy, baby bok choy, joi choi, pak-choi, or the pak-choi hybrid called toy choi. Burpee page here.
Chinese cabbage is ready to harvest relatively quickly, depending on variety, taking 70 to 90 days when planted from seed, or 60 to 70 days when using transplants.
Planting Times North Florida Region – Traditional & Chinese: Aug-Feb
Cabbage
To Plant:
Days to Harvest 85–110 (70–90)
Optimum soil temp for germination is 60-85.
Spacing 9″–16″ for 24″ rows
Seed depth ¼" – ½"
Side Dressing – When the head begins to form; side dressing is not necessary if soil was well fertilized at planting.
When the plants are about 6 inches tall, a layer of mulch can be applied. 
Plant Sep-Mar – Nantes, Chantenay. 1/8 oz = 100″ row. "Space carrot rows 10 inches apart with plants spaced 1–3 inches apart." From IFAS.
Optimum soil temp for germination is 65-85.
Mix your carrot seed with sand at a ratio of 100 to 1, that's about a quarter teaspoon of carrot seed to a quarter cup of sand.
Sow carrot seeds about 1/4″ deep and cover with potting soil that will not crust over.
Good advice here.
Plant new seeds about every six weeks to keep a steady supply throughout the growing season.
The "seeds" are actually two cilantro seeds encased in a husk. The husk is hard, round and is light brown or grey in color. Before you plant them in the ground, you need to prepare the cilantro seeds to increase the chances that they will germinate. Gently crush the seed husk holding the two seeds together. Soak the cilantro seeds in water for 24 to 48 hours. Remove from the water and allow to dry.
The most important thing to remember when growing cilantro is that it doesn't like hot weather. Cilantro growing in soil that reaches 75 F. (24 C.) will bolt and go to seed.
Put the seeds in the soil and then cover them with about a 1/4-inch layer of soil. Leave the cilantro growing until it is at least 2 inches tall. At this time, thin the cilantro to be about 3 to 4 inches apart. You want to grow cilantro in crowded conditions because the leaves will shade the roots and help to keep the plant from bolting in hot weather.
Cover Crop for Southside & Northside when available
Cereal (Elbon) Rye (80-120 lb/ac) on or after Oct 1 per IFAS. Plant 1-2″ deep or disk in lightly with drag.
The south half is 1/6th acre so need 20 lbs Elbon rye.
Dill
Long Island Mammoth at SESE – Items 1 & 2 below are from IFAS.

Seed should be planted ¼–½ inch deep in rows at the rate of 6 to the foot and thinned to 1 plant every 12 inches. One ounce of seed should plant 50 feet of row. With considerable care, the seedlings may be transplanted if desired. September through December is the best planting time, but

dill gives good results when planted in February and March

. 'Long Island Mammoth' matures in about 65 days.
Dill grows best in full sun, and will only need to be watered once a week if there is no rain.
From Southern Living Mag.

Plant dill in full sun.
Choose a place where the stalks are protected from strong winds, or be prepared to stake the plants.
Dill likes rich, well-drained soil with a pH of 5.5 to 6.5.
In spring, sow seeds two to four weeks before the last frost;

in fall, sow again about two months before frost.
Leeks – King Richard
Sow seeds in the fall. When the plants are the width of a pencil, start mounding soil around them, and continue to do so as they grow.
Plant King Richard Leeks.
Optimum soil temp for germination is 65-85.
See pdf at IFAS here with the following advice.

Planting dates for North Florida: Seed Mid Sept-mid Nov; Transplant Nov – Jan
Distance between rows (in) 14″-18″
Distance between plants (in) 4″
Seeding depth (in) 0.25″-0.5″
Days to maturity 100-130

Side Dress – when plants are 12 inches tall.
Lettuce
Plant Sep-Oct
Optimum soil temp for germination is 60-75 and max is 85.
General Notes –

Sow seed 1/4″ deep and thin to 10-16″ apart depending on the variety.
Loose-leaf varieties may be planted more closely but good air circulation should be maintained around the plants.
Soil should be cool and moist during the germination period.

Germination Notes:

If the temperature exceeds 80 degrees lettuce will often fail to germinate.
Lettuce can be planted during late summer or early fall while the days are still hot provided that the seeds are germinated in the refrigerator for 4-6 days.
Another method is to soak seed in 10% bleach for 2 hours at 40-60 degrees F followed by 4 water rinses. This method enhances both the speed and amount of germination.
One more method is to keep soil cool with burlap or boards; remove cover promptly after germination to keep grasshoppers and other pests from enjoying the shaded tender sprouts!

Side Dressing – For loose-leaf; after second and third cuttings for cut-and-come again crops.
Salad Bowl. PLANT FIRST. Planted Oct 20, 2019 in Mary's Garden.

40 days. [1952. AAS winner.] Large looseleaf lettuce with long frilly leaves arranged in a rosette.
Tolerant to heat and tip-burn.

Buttercrunch – PLANT SECOND. Plant Nov. 3

Space plants 8″-10″ apart, in rows 18″ apart.
Frequent use of nitrogen-rich fertilizer is recommended. The plants respond well to regular applications of liquid fertilizer.
65 days. Classic butterhead type was the standard for many years. Soft, buttery-textured leaves enclose a crisp, juicy, loose inner head of blanched, sweet-tasting leaves. Very heat-tolerant and slow to bolt, Buttercrunch stays mild long after others have turned bitter. Developed by George Raleigh, Cornell University, and an All America Selection for 1963. From here.
A Review – "Fantastic germination. Did best in full sun during our mild Texas [Hill County] winters. We even had a few decent night freezes (less than 20) and even uncovered, this was no problem."

Black Seeded Simpson from here. Plant Nov. 17

When planting in rows, thin to 6″ apart, in rows 12-18″ apart.
Some people sprinkle the seeds on top of fine soil and just water them in.
Black Seeded Simpson lettuce likes cool weather and lots of moisture.
Liquid fertilizer works well once or twice early in their growth cycle.
Plant small sections in your garden every couple of weeks.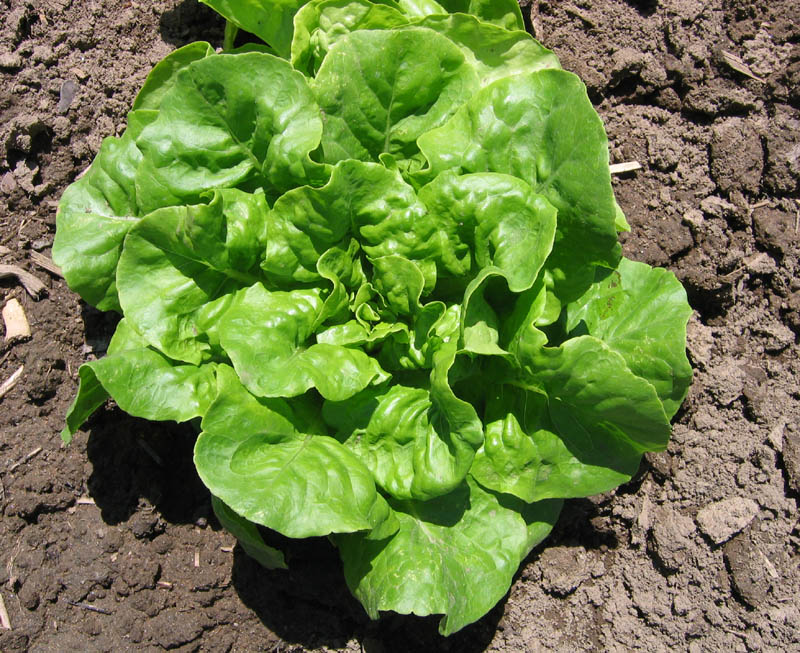 Arctic King Lettuce from here. Plant Dec. 1
Arctic King is a variety of heirloom Butterhead lettuce. This Lettuce is very easy to grow and produces a light green crispy leaf. Arctic King gets its name from its ability to withstand frosts and the winter cold with minimal cover in zones 5-10. It is considered one of the hardiest of all lettuces
Arctic King can be planted in September or October in southern zones and grown as a winter crop.
Mustard
Plant Sep-May – Florida Broad Leaf and Tendergreen.
Optimum soil temp for germination is 60-75 and max is 85.
Build wide beds 6 to 8 inches high, Plant double rows with seeds spaced 1″-6″ apart and 1/2″ deep. Cover the seeds lightly with soft soil or compost; then sprinkle the row with water to speed sprouting.
Thin the mustard plants until they are about 6 inches apart.
Sprinkle the row regularly with water to prevent soil crusting until the small plants breakthrough.
When the plants are 4 to 5 inches tall, apply ½ cup of fertilizer for each 10 feet of row. Spread the fertilizer beside the plants, mix it lightly with the soil and water it into the soil. If the soil is sandy and the season is wet, apply more fertilizer later.
To have a continuous supply of fresh, tender mustard and turnip greens, make two or three plantings 10 days apart.
From TAMU.
Plant Aug-Mar
Optimum soil temp for germination is 65-85 and max is 95.
Side Dressing – 3 weeks after setting out; when tops are 4 to 8 inches tall; when bulbs begin to form.
Bulbing: Granex (yellow)
Bunching (Green): Evergreen Bunching, White Lisbon Bunching
Leeks: American Flag
Multipliers: Shallots

The shallot is a delicious onion with a delicate, mild flavor. Shallots are very similar to green onions but grow in clusters of small bulbs, much like garlic, rather than as individual onions. You can consume both the leaves of shallots and the bulbs.
Fall is a great time to plant. Shallot bulbs are between three-quarters of an inch and one-and-a-half inches in diameter and are red, pink, white, gray, or reddish brown. Plant small shallot bulbs about six inches apart, leaving the growing point exposed above the surface of the ground. Harvest in early summer when the leaves turn brown.
Save some bulbs for the next season's garden. Store your dry shallot bulbs in a cool, dry area. Refrigerate green shallots and eat them within two weeks.
Peppers – Florida-friendly varieties from here.
Optimum soil temp for germination is 65-85 and max is 95.
There are a number of varieties of peppers to choose from, make sure you are selecting varieties that will grow well in Florida. 'California Wonder', 'Red Knight', and 'Big Bertha' are few varieties of bell peppers that will grow well in Florida gardens. Other sweet peppers suited for Florida include 'Sweet Banana', 'Giant Marconi', 'Mariachi', and 'Cubanelle'.
For hot peppers, try the jalapeno varieties 'Early Jalapeno' or 'Jalapeno M' or the specialty hot peppers 'Cherry Bomb', 'Hungarian Hot Wax', 'Big Chile II', 'Numex', 'Ancho', 'Thai', 'Anaheim Chile', 'Long Cayenne', 'Habanero', or 'Caribbean Red Habanero'.
Pumpkins
Plant in Aug. [should have planted in July to be ready for Holloween] Bought Sugar Pie Pumpkin at St. Elmo Seed.
plan on a minimum of 20 square feet [hills ~5 ft o.c.] being needed for each plant. From here.
Optimum Soil Temp for Germination: 95 F
[Guidance worked]

For improved drainage sow in mounds, or hills, of soil 12 inches in diameter, 6-8 inches tall.
Sow 4-6 seeds in groups about 3 inches apart. Each group should be about 4-6 feet apart. Cover with 1 inch of fine soil and firm lightly.
Seedlings emerge in 7-14 days.
Thin seedlings to 2-3 per group when they are 1-2 inches high
Radish, Diakon & April Cross Hybrid
Plant Sep-Mar – Cherry Belle, White Icicle, Sparkler, Champion, Daikon.
Bought/planted Daikon and April Cross Hybrid Radish Seeds.
Optimum soil temp for germination is 65-85 and max is 95.
Daikon Radish – Place the seeds ¾ inch deep and 6 inches apart. Leave 3 feet between rows to allow for mature spread. The plants will mature within 60 to 70 days.
Side Dressing – No need to side dress.
Read more at Gardening Know How: What Is Daikon: Learn How To Grow Daikon Radish Plants https://www.gardeningknowhow.com/edible/vegetables/radish/growing-daikon-radishes.htm
Spinach
Planted:
From the Texas Gardener

Seeds should germinate in about 7 to 10 days. When seedlings are about 2 inches tall, thin them out to about 6 inches apart.
Fertilizing – Blends of 3-1-2 or 4-1-2 ratio products work well as a pre-plant application. If the nitrogen content (the first number) of the product you choose is around 6 to 8, which is typical for natural blends, then apply 3 cups per 100 square feet of garden bed. If you are using a synthetic blend of the above ratios (most range from 15 to 21 percent nitrogen) then apply 1 to 1.5 cups per 100 square feet of garden bed.

Germination temperature: 40 F to 75 F – May fail to germinate in warm soils. Days to emergence: 6 to 10 – About 3 weeks at 50 F. About 5 days at 77 F, but germination drops to about 30 percent. From Cornell Univ.
Soak seeds in a glass of water in the refrigerator for 24 hours prior to planting, they will begin to take up water and initiate the chemical processes that lead to germination. Water the soil in the seed row prior to planting to soak it deeply. Then plant the seeds about 1/4 inch deep. [Did not do this Fall 2019 and had good germination and we were watering it often daily due to the September drought.]
Good general info here and at the Texas Gardener.

Soil Temperature: 50-75°F MAX. Optimal is 70. For Germination??
Planting Depth: 1/2″
Spacing After Thinning: 6″-8″. Plant several rows along wide topped raised beds. Space rows of plants 8 to 10 inches apart across or down the bed.
Stagger plantings by 10 to 14 days to hedge your bet and to keep you in a good harvest all winter.
Germination: 7-14 Days*
Height At Maturity: 12″-18″
Days To Maturity: 39-60 Days
A row cover fabric placed over the row can help hold in soil moisture and allow the seedlings to get off to a good start. Just remember, don't allow them to dry out. Seeds should germinate in about 7 to 10 days. When seedlings are about 2 inches tall, thin them out to about 6 inches apart.

*Refrigerator Germination – [Did not do this Fall 2019]

Soak seeds in water overnight, then drained and put the damp seeds in the fridge in a jar (exactly like for growing alfalfa or bean sprouts to eat), rinsed them every day and planted on about day four.
Put seeds between wet paper towels then into a ziplock and into the refrigerator for a week.
Optimum Soil Temp for Germination – 95 degrees
Spaghetti squash – Seeds should be planted in rows in groups of two about 4 feet apart about an inch or two deep. Thin to one plant per hill. Each row should be 8 feet from the next." From here. Bought Vegetable Spaghetti Squash at St. Elmo Seed.
Table Ace (Acorn) Hybrid – Need about 50 square feet per hill; i.e. 7 ft. o.c. Plant five or six seeds per hill then thin to two to three plants in each. From here. NOTE: The fungus that took over hit this acorn squash the fastest and hardest.
Waltham Butternut – Plant bush butternut seeds 16 inches apart in rows, with the rows spaced 5 apart. Sow the seeds 1 to 2 inches deep in groups of four. Thin out all but the strongest plant in each group so the butternut squash is at the proper spacing. From here.
Great paper on squash in north Florida is here. Found on 11/14/2019 so the plans above did not reference it.
Plant Sept-May
Speed up germination by soaking seeds in tepid water for several hours before planting and keep the soil moist until seedlings are established. [Should have done this Fall 2019.]
Plant seeds 1/2 inch deep and 4 to 6 inches apart, thinning to 8 to 12 inches when plants reach about 4 inches in height.
The pebbly chard seed is actually a fruitlet cluster made up of several seeds, and after germination adjoining sprouts may have intertwined roots. When thinning, avoid disturbing these fragile roots by snipping or pinching off unwanted seedlings just above the soil line.
Side Dressing – Mulch plants well throughout the year and give them a nitrogen boost every 4 weeks by applying a water-soluble fertilizer or by side­dressing with 1/4 cup of granular fertilizer per 10 feet of row.
Chard is ready to eat 50–60 days from seeding.
Bright Yellow

Seeds germinate in soil temperatures from 40–100°F (5–38°C) with an optimum of 86°F (30°C).
Seedlings will tolerate light frosts, and mature plants are hardy to moderate frosts.

Bright Lights

Bright Lights is a mix of green- and black-leaved Swiss Chard in all brilliant colors, including stripes, streaks, and bicolors.
It has received both an All-America Selection and an Award of Garden Merit from the Royal Horticulture Society.
Will regrow if leaves are cut back to 2 inches from the crown.

Very susceptible to root-knot nematodes per IFAS. Did not know this until 11/26/2019.
Tomatoes
Celebrity

1984 All-America Selections (AAS) award winner.
touted to be about 70 days to maturity, in reality, many gardeners say the maturity date is closer to 90-100 days.
Resistance: VFFNTASt, cracking

Amelia – Seedlings from the spring plants did not survive.
Italian Roma Heirloom Tomato

About 80 days to maturity.
Bright red, plum-shaped, paste-type fruits with meaty interiors. Good disease resistance.
Fertilize when first fruits form to increase yield. Water deeply once a week during very dry weather.
Germination when temps are 60-75°F, 14-30 days.
Transplant when 8″ tall. Space 12 in. apart.
Reaches 10″-12″ high
Shrubby, evergreen perennial.
"Here in my North Florida vegetable garden, I grow 'Green', 'Cisneros', and 'Purple de Milpa' tomatillos. Tomatillos are grown just like tomatoes. They take 50-70 days to produce green fruits, and ripe tomatillos can be harvested a couple of weeks later. Tomatillos are frost-tender annuals that can be grown in most zones." From here.
---
Seeds for the Fall Garden
St. Elmo Feed and Seed
Ruby Queen Beets – 1/2 oz
Celebrity tomatoes – 20 seeds
Sugar Pie Pumpkin – 1 oz
Vegetable Spaghetti Squash – 1/2 oz
Waltham Butternut Squash – 1/2 oz
Waltham Brocolli W29B – 1/2 oz
Bloomsdale NG Spinach – 1/2 oz
Tendergreen Mustard – 1 oz
Florida Broadleaf Mustard – 1/2 oz
Early Jersey Wakefield Cabbage – 1/2 oz
Flat Dutch Cabbage – 1/2 oz
Park Seed ordered on 7/20/2019
Aspabroc Hybrid Broccoli Seeds
Rainbow Blend Carrot Seeds
Nantes Organic Carrot Seeds
SESE ordered on 7/20/2019
White-Stemmed Pak Choi, 2 g
Thyme, German Winter, 0.2 g
Plastic Plant Tags, 50
JungSeed.com ordered on 7/28/2019
Long Island Mammoth Dill – 1000 seeds
Table Ace Hybrid Squash – 30 seeds
SESE ordered on 8/12/2019
Hungarian Wax (Hot Banana) Hot Pepper
Cisineros Grande Tomatillo
St. Elmo Feed & Seed on 8/19/2019
Swiss Chard – Bright Lights
Cucumber – Poinsett 86
Country Creek LLC order 8/19/2019 through Amazon
Johnny's Seeds on 8/25/2019
Corvair – smooth-leaf spinach
Emperor – savoyed-leaf spinach
Space – smooth-leaf spinach
Bright Yellow Swiss Chard
Remaining Seed From Spring Garden
King Richard Leeks
De Cicco Brocolli
Chantenay Red Core Carrots
Common Cilantro
Thyme
Lettuce

Buttercrunch
Black Seeded Simpson
Salad Bowl