All info here is from IFAS at links below.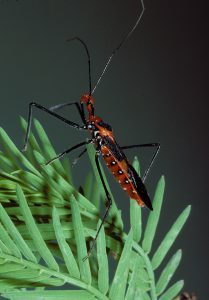 They are generalist predators feeding on a wide range of soft-bodied prey in garden and fields such as mosquitoes, flies, earthworms, cucumber beetles, and caterpillars (fall armyworm, rootworm, etc.).
---
The wheel bug, Arilus cristatus (Linnaeus), is a moderately common, widely distributed, beneficial assassin bug that preys on pest insects. However, its bite can be more severe than a bee sting, and both nymphs and adults should be avoided or handled with caution.
---