A good info source – Florida Native Plant Society
Wildflowers to consider:
Black Eyed Susan
Woodland Black Eyed Susan – Rudbeckia hirta Linnaeus var. hirta. It has a taproot and does well in wooded areas.
12/23/2019 – Ordered 1 lb. Blk Eyed Susan seed (Rudbeckia hirta) from American Meadows. 1 lb covers 21,780 sq ft.
---
Ratibida columnifera
Ratibida columnifera (Nutt.) Woot. & Standl.
Mexican Hat, Red-spike Mexican Hat, Upright Prairie Coneflower, Prairie Coneflower, Long-headed Coneflower, Thimbleflower
A plant branched and leafy in lower part with long leafless stalks bearing flower heads of 3-7 yellow or yellow and red-brown, drooping rays surrounding a long, red-brown central disk. Its sombrero-shaped flower heads, is usually 1 1/2 ft. tall but can reach 3 ft. Flower petals range from dark red and yellow, to all red or all yellow. The flowers central brown disk protrudes 1/2 to 2 in. above the drooping petals. Leaves on the lower portion of the stem are feathery and deeply cleft.
---
Phlox
Phlox spends most of the year blending in with the grass, but in the late winter and spring these plants burst into bloom.
Moss phlox (Phlox subulata) 'Emerald Pink'. Photo: Dow Gardens, Bugwood.org)
These are all cultivated varieties – Cultivars include 'Crimson Beauty' (red flowers), 'Emerald Cushion' (pink flowers), 'Millstream' (white flowers with a crimson eye), 'Millstream Daphne' (dark blue flowers), and 'White Delight' (white flowers).
Wild phlox has a great amount of variation.
Plants grow to only 6 inches tall, form thick clumps and make a good ground cover. Phlox can be used as a ground cover or allowed to grow cascading down a wall. They can also be used as a stabilizer for a sloping landscape.
Q: I am seeing clusters of blue flowers which look similar to phlox along the roadsides. Were these areas seeded? A: Some of our median areas have been seeded with wildflowers but phlox generally likes partial shady sites so these areas are not a favorite. We do have a native phlox so I suspect it is the flower you have been noticing. Many of us have been enjoying these sweet flowers and you are correct, they are indeed blue or wild phlox, Phlox divaricate. This beautiful flower is native to North America and found westward to New Mexico and as far north as Eastern Canada. It is a perennial and blooms from late February through April. The blooms may last longer in your landscape if you provide them with morning sun and protect them from the harsh afternoon heat. They are propagated by cuttings rather than seed. by kathywarner here.
---
Coreopsis
Coreopsis is a sunny flower that graces roadsides, fields, and many gardens across the United.States. This native perennial is also Florida's state wildflower.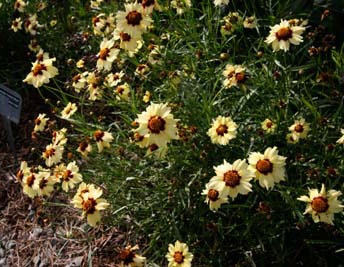 Commonly known as tickseed, coreopsis comes in many species and varieties. Most are daisy-like with a ring of yellow petals surrounding a brown or yellow center. They typically bloom in spring and summer.
You can get seeds from your local garden center or from the Florida Wildflower Growers Cooperative. Sow your seeds anytime from October through January. Find a sunny spot, and plant the seeds no more than one-eighth of an inch deep.
Once established, this Florida-Friendly plant is drought tolerant. Coreopsis often re-seeds itself, so you'll be able to enjoy its cheerful blooms for years to come.
---
Beautyberry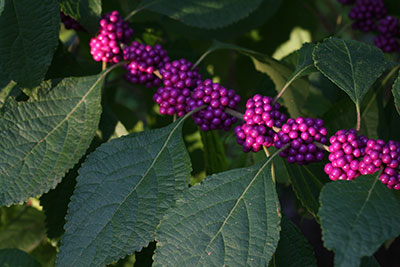 If you're looking for a dazzling plant to attract birds to your yard, look no further than beautyberry. This Florida native is scientifically known as Callicarpa americana, and its bright purple fruits are some of the most striking around.
Beautyberry:
also called American mulberry, is native to flatwoods and hammocks but thanks to birds it has spread near and far.
beautyberry is a sprawling, small shrub (3 to 8 feet tall; 4 to 8 feet wide) that works well in borders or as a specimen plant.
plant beautyberry at any time during the year, and it will be drought-tolerant once established. Beautyberry prefers rich soils, but will also grow in poor, sandy soils.
---
Native Azaleas
Source – http://www.mountainmist-nursery.com/native-azaleas-species.html
Planting Guide – http://www.mountainmist-nursery.com/planting-guide.html
Below is from https://www.al.com/living/2016/03/native_azaleas_garden_talk.html. Updated Mar 06, 2019.
pink, fragrant, delicate flowers of the Piedmont azalea (Rhododendron canescens) or the
orange-yellow blooms of the Florida Flame azalea (Rhododendron austrinum).
white, yellow-blotched and lemon scented flowers of our namesake Alabama Azalea (Rhododendron alabamense). Alabama Azalea, while not the showiest flower, may be the most fragrant of all the native azaleas.
Deciduous azaleas prefer moist, sandy, well-drained soil. Morning sun with afternoon shade will enhance blooming and reduce excessive drying.