Beans
Beets
Kestrel Beet – Plants produce semi-glossy tops that mature at 12″-13″ tall. Kestrel Beet has an excellent disease package that includes resistance to downy mildew, powdery mildew, Cercospora, and Rhizoctonia. It is slow-bolting for extended growth periods into late spring. It works great as a storage beet for pickling and preserving.

Pre-sprout
Planting Depth: 1/2 in.
Seed Spacing: 4-6 in.
Row Spacing: 3 ft.
Days to Maturity: 55
Brocolli
Green Magic did well in the fall garden.

Sow broccoli seeds directly in the garden two to three weeks before the last spring frost date; i.e. March 1.
The minimum soil temp is 40° and the optimum is 60-85°.
Plant the seeds 1 inch deep and thin best seedlings to 12″ spacing
MY PLAN – Sow 2 seeds 3″ apart with 12″ spacing between the centers of each pair. Thin out the weakest or transplant to locations where neither seed in the pair came up.
Carrots – In Mary's Garden Only
From YouTube Video: Plant in the space a board will cover. Then water the soil well. Drop seed onto wet soil then press down into the soil but not too much so you can still see them. Flip board over seeds/soil and press into the soil. Chk for sprouts in 5-6 days but likely 10-11 days. Water around the board if the dirt dries out.
HOSS plants the Scarlet Nante. Bought 2/8/2021, by Ferry Morris via Home Depot. HOSS's tips from this video are:
Put on 2/8/2021 into the refrigerator for 2 weeks; i.e stratification.
Have a stale weed seedbed. i.e. keep clean for 2 weeks before sowing.
Plant seed 1/4″ deep, 3 seeds per inch, and thin to 1-2″ apart in rows 12″ apart. Per SESE.
Keep it wet from underground with drip tape.
Plant them thick as many will not germinate. They will be all different sizes due to the thickness.
Avg soil germination temp is 75
Plant spring carrots in February
RKNs are a problem so plant the right cover crops.
Cilantro
Crack the seed coat and pre-soak 24 hours.
Set the seeds between 1/4 to 1/2 inch deep, 2 inches apart in rows 12 to 15 inches apart.
After germination, thin seedlings to 6 to 8 inches apart. Here says thin to 4″ so the thick leaf canopy shades the soil and they bolt slower.
Corn
G-90 in nine 60′ long rows. Total row length will be 540 feet.
1 to 2 ounces of seed for every 100 feet of row. Therefore, 6 oz to 12 oz. So, buy a pound.
Sow 1″ deep, 8-12″ spacing
Leftover seed to be planted in July for fall corn.
Use modified HOSS plate 4 with only two holes to sow the seeds 8.5″ apart counting on good germination and no thinning.
Spread fertilizer below hill and include 2/3 tbsp per row of zinc sulfate. For the 9 rows of G90 corn mix 18 pints/9qts/2.25 gallons of 8-8-8 with 6 tbsp (9×2/3) of zinc sulfate. Spread 1 quart per row.
Cucumbers
Poinsett 76 Cucumber
24″ apart, 1-2″ Deep
Flowers
Periwinkle – Vinca – Plant Cora periwinkle from seed as it is disease resistant to the common fungal disease. Good advice here (see extracts below) and here.

As they appear here in the stores in May they would have been sown in March.
If you can, set the container on a heating cable or mat to maintain a temperature of 77 degrees F (25 degrees C) in the media. Seeds will germinate in one to two weeks.
Grow the plants at 70 degrees F or higher.

Marigolds

Moisten the soil, then sow seeds 1 inch apart and no more than 1 inch deep.
The seed germinates in one week at 70 to 75°F.
While still small, thin the seedlings. Space French and signet types 8 to 10 inches apart.

Zinnias – From here.

Sow seed collected last year
It takes air and soil of more than 70 F to germinate well.
They do not transplant well.
Plant them about 1/4" deep in the ground.
Hydrangeas
If you have some of the newer varieties, like 'Endless Summer' or 'Blushing Bride', you will definitely have blooms because they bloom on both old and new wood. The older varieties only bloom on old wood. From here.
Greens
Maybe try – Senposai, which translates as Thousand Wonder Vegetable, is a cross between komatsuna and regular cabbage. From here.
Savanna produced good tasting greens in our fall 2020 garden.
1-6″ apart; ½-1″ deep
Lettuce – Mary's Garden
8-12″ apart; ½" deep
Salad Bowl from HOSS

1,000 seeds per packet
When to Sow: early spring and fall

Planting Depth: 1/4 in.
Seed Spacing: 8-12 in.
Row Spacing: 18-24 in.
Days to Maturity: 50
Disease Resistance: Tipburn
Okra
Per

600 Answers

by Rodale and separately a forum poster said to freeze them overnight to break the heavy seed coat. Then soak them in warm water for 24 hours to speed germination that is slow when the soil is 60-70 degrees.
Sow seed 3/4-1 in. deep and thin to 18 in. apart in rows 5-6 ft. apart. Per SESE. HOSS says 12-18 in spacing
Sow with HOSS plate No. 3 with only two holes to sow the seeds 8.5″ apart counting on good germination and thin or transplant 50%.
Okra, Gold Coast at SESE – Sweet, mild, spineless light-green pods up to 6 in. long. 5-6 ft. plants are well-branched with an open growth habit. Thanks to its well-developed root system, has good drought and heat tolerance, as well as tolerance of root-knot nematodes.
Red Burgundy Okra is a highly-productive, heirloom variety that produces deep, red pods that remain tender at longer pod lengths. All-America Selections winner in 1988
Onions
Warrior Bunching onions from HOSS. An All-America Selections winner in 2016.

1-2″ apart; ¼" deep.
HOSS recommends: feeding them with our 20-20-20 and Ammonium Sulfate fertilizers. Fertilize with 20-20-20 shortly after transplanting. The phosphorous and potassium in the 20-20-20 fertilizer will help to promote solid root development, while the nitrogen will promote vegetative growth. Once transplants are established, we recommend side-dressing or injecting with our Ammonium Sulfate fertilizer.

gain a week or more on the onion season by soaking the seeds in lukewarm water for a few hours before planting them.

White and Yellow Onion Sets – Advice below from SFGate.

2-3″ spacing and rows 3 to 5 inches apart for green onions.
Plant the sets no more than 1 inch deep. It's fine if your onions are partially exposed; you're more likely to harm them by planting too deep than too shallow.
A border of onions around cabbages, broccoli, or other brassicas can help protect against cabbage worms.
Peas
Good pea variety article at LSU Ag Center
PEPH Top Pick, bush variety, did well last year and were easy to pick. Sow 1″ deep. Thin to 4″ apart.
Mississippi Silver from Sow True Seeds.

Silver – Also known as 'Mississippi Silverskin', 'Mississippi Silver Crowder', 'Mississippi Silverhull' and similar to 'Newton Silverskin'. The plants are bush-type setting six to seven inch long pods that are silvery-green in color and fill with large, meaty, brown seeds. Resistant to Fusarium wilt and root-knot nematodes as well as being tolerant to other viruses.
2″-4″ apart when mature; 1″-2″ deep
Sow with HOSS plate no. 5 (2.8″ apart).
Each Sow True Seed Packet is 14 gm and has approximately 70 seeds. If 2.8″ apart then the 4 packets will sow 65 feet of row.

Days to Harvest – 85
Ideal Soil Temp – 50-80°F

Oregon Giant Dwarf Snow Pea, ¼ lb. 3 ft. vines resist common wilt, mosaic virus, powdery mildew.

Sow seed 1" deep in double rows 4″ apart. Thin to 2" apart.

Also good for a fall crop. Freezes well.
Bought 228 gms = 8 oz. 1 oz is approximately 100 seeds and sows about 10′ per Victory Seeds.

Sugar Ann Dwarf Snap Pea, ½ lb. 56 days. 1984, AAS Winner. Extra- early. Crisp, flavorful 3 in. snap peas.

Sow seed 1" deep in double rows 4" apart. Thin to 2" apart.
Compact 2 ft. vines don't require trellising.
Also good for a fall crop. Freezes well.
Per Victory Seeds
Bought from SESE 228 gms = 8 oz. 1 oz is approximately 110 seeds and sows about 10′ .
60 days — 'Sugar Ann' sugar snap pea vines are short, reaching twenty-four to thirty inches tall, and although they do not require it, they will definitely benefit from some support. Like snow peas, the whole pods of sugar snap peas are eaten. They are best harvested small at about two inches in length when they are crisp, sweet, and flavorful. After de-stringing, they are great fresh, used in a stir fry, or frozen for later use.
'Sugar Ann' was an "All-American Selection®" winner in 1984. Each ounce is approximately 110 seeds, which is generally enough to plant at least a ten-foot row.
Peppers
Peppers plants thrive best when temperatures are warm. Planting should be delayed until the danger of frost has past. Ideal temperatures are 70 to 80°F during the day, and 60 to 70ºF at night. Pepper plants grow best in warm, well-drained soils. From Urban Farmer here.
From SESE here – Space plants 18-24 in. apart.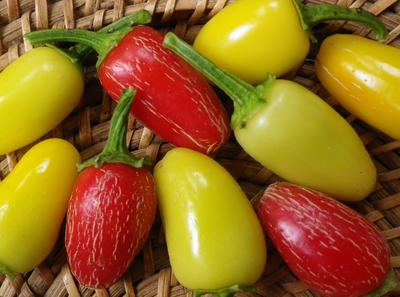 "Carolina Wonder Sweet Bell Pepper" from SESE (N); The best nematode-resistant bell for home gardeners. 75 days.
Charleston Wonder sweet bell (N)
Greek pepperoncini at HOSS. [Not the Italian variety.]
Giant Marconi Sweet Peppers F1 – Buy 3 plants from Bonnie
Jaloro Jalapeno – Resistant to many diseases and milder. SESE pg 43. [1992, Texas A&M.] Big yields of colorful yellow Jalapeño peppers, one of the best in our 2018 Jalapeño trials. 1½ x 2 in. fruits are juicy with thick walls. Medium hot fruits, milder than our regular Jalapeños. Shorter plants than our regular Jalapeños – a good container variety! – with bigger early harvests. Resistant to many diseases including TMV.
Pepper Chile G76 F1 – From Garden Trends. This high yielding hybrid Anaheim type produces medium-thick fleshed fruit that has a delicious mild heat and a richly satisfying chili flavor. The attractive fruit is 8″ long and ripens from a bright green to red at full maturity but, Anaheim's are mostly eaten and used when green. This Southwest favorite is used for making chile Rellenos, grilling, and roasting.

Soil temperature: 75 – 80 degrees Fahrenheit
Seeding depth: 0.25 – 0.5 inches
Germination days: 10 – 20 days
Grow on temperature day: 60 – 65 degrees
Weeks indoor: 6 – 8 weeks
Maturation days: 72 days

Tiburon Poblano Pepper – From HOSS – A highly-productive, hybrid variety that produces large, glossy peppers. Mild heat that's great for stuffed peppers and sauces. Capsicum annuum.

Planting Depth: 1/4?
Planting Method: transplant

Row Spacing: 3-4?
Days to Maturity: 60
Disease Resistance: Tobacco Mosaic Virus, Bacterial Leaf Spot, Cucumber Mosaic Virus
Squash
Pascola Zucchini from HOSS *

resistant to powdery mildew, cucumber mosaic virus, watermelon mosaic virus and zucchini mosaic virus. This makes it a great option for hot and humid climates where disease pressure can escalate quickly in late spring/early summer. Due to the improved disease-resistance, Pascola may be grown into the summer months when disease pressure is typically higher.
Planting Depth: 1/2 inch
Seed Spacing: 18-24 inches
Row Spacing: 5-6 ft.
Days to Maturity: 45

Delta Squash (yellow semi-crook neck) at HOSS. *

resistant to powdery mildew and will perform even in the toughest growing conditions. The plants also have a dense bush growth habit, so you get maximum productivity with a slightly smaller footprint. 
Planting Depth: 1/2 inch
Seed Spacing: 18-24 inches
Row Spacing: 5-6 inches
Days to Maturity: 45

Golden Bush Scallop Summer Squash at SESE * – Downy mildew resistant.

(C. pepo) 68 days. Golden-yellow, plump, Patty-Pan fruits on space-saving bush plants. Prolific and hardy, the plants bear continuously over a long season. Downy mildew resistant. 
Spinach
3-5″ apart; 3/4″ deep
Pre-soak
Tomatoes
Our Plans for 2021 for all three varieties:

Transplants were grown in the new Greenhouse.
Transplant spacing to be 24″

Better Boy Tomato F1

Resistant to Al, F1, Vt, and RN.
Foliage/habit: dense; prevents sunscald
Slicer
Yield: extremely high

Super Sweet 100
Celebrity
---
Seeds & Seedlings to Buy
Cucumber, Poinsett 76
Tendergreen Mustard
Kentucky Wonder bush beans – 2 lbs.
Hale's Best 45 cantaloupes
Peas – 2 lbs each

Mississippi Silver (bush) and Mississippi Purple Peas (semi-vining) (at HOSS)

Silver – At Victory Seeds. 60 to 90 days — Also known as 'Mississippi Silverskin', 'Mississippi Silver Crowder', 'Mississippi Silverhull' and similar to 'Newton Silverskin'.

PEPH Top Pick grew lots of bush and had good production. Pods were high, easy to pick, and shelled well in 2020 garden. – At Hurley F&S.
*— Ordered
---
Root Knot Nematodes
Nematode Resistent varieties per LSU Ag Center
There are only a few crops that have varieties resistant against the southern root-knot nematode. Tomato varieties include Better Boy, Big Beef, Celebrity, Champion, Crista, Mountain Fresh Plus, Roma, and Terrific or any other variety listed with a "VFN". The "N" stands for root-knot resistance.
Southern peas are the other major vegetable with resistance. Several Southern pea varieties to use against the root-knot nematode include Mississippi Silver and Mississippi Purple. Even if you are not interested in growing peas for sale or personal consumption, allowing this crop to grow for 6-8 weeks can drastically reduce the numbers of nematodes present.
---
Advice for the 2021 Fall Garden
Plant sweet corn in late August per HOSS here.